Kid Kritics Approved
Premier Organics, manufacturers of Artisana organic foods and headquartered in Oakland, CA, was founded in 2002 with devotion to sustainable living and through our community we support the organic and living foods movement. We offer organic raw and now lightly roasted nut butters and cacao butter. The facility is free of peanuts, gluten, and soy and operates under strict food safety protocol. All products are certified organic by QAI and Kosher by KSA.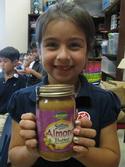 "I really love peanut butter and this is as good as peanut butter… tasted sweet… unique flavor… that was good… tasted like peanut butter and almond butter… very good, so so good almond… it was the best thing in the galaxy!" There are more nut butters available to you than just peanut. Make yours an almond butter fan.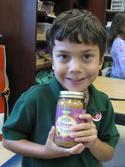 The Kid Kritics loved Cashew Butter. " Fabulous… tasted fantastic… pretty color… extraordinary… awesome… liked it so much I could eat it 5 times a day – 1000 times a day… sweet, not too sweet… like peanut butter but not like peanut butter… very smooth." Now they call themselves the Cashew Kids!
We've put together some delicious and healthy recipes combining Kid Kritics Approved products with other wholesome ingredients.