About Kid Kritics - Healthier Foods Kids Like to Eat

When kids do not like the taste of foods and drinks, buying them is a waste of money. Cooking them is a waste of precious time. Parents and kids trust that products identified with the Kid Kritics Approved seal are Better Food Choices that taste good!  They know the odds are their kids will eat them too, making them a Smart Buy!
Meet the Kid Kritics
Growing group of boys and girls between the ages of 5 and 14

Thousands have tasted hundreds of products

Gender split is almost even

Reasonable ethnic mix
About the Kid Kritics Taste-Tests
Kids love to taste-test foods and they gladly give us their unadulterated, honest, and candid opinion. These are blind taste-tests; the products and recipes are not identified before or during the tasting. However, kids are asked to identify their allergies or food sensitivities before the tasting begins. The foods, beverages, supplements and recipes at each tasting are lined up in a sensible order to avoid taste conflicts. Kids are asked to drink a sip of water between each product tasted in order to clean their palate.
QUESTIONS: Kids write Y (yes) or N (no) to these four questions:
Does it look good?

Does it smell good 

Does it taste good?

Should your family buy, serve or make it?
RATINGS: Each food or drink is given a rating from 1 to 3, three being the best.

Approval Requirements
The results must be at least 70 percent positive. By the time the answers are evaluated, it becomes clear whether they liked it or not. The foods given the Kid Kritics seal of approval are clear winners. Those that fall into a borderline rating are not included. Neither are the obvious rejections. Consequently, the odds of kids liking foods and drinks given the Kid Kritics seal of approval are excellent.
Hundreds of food, beverage and supplement products, plus recipes, have been taste-tested. This is an ongoing brand awareness program.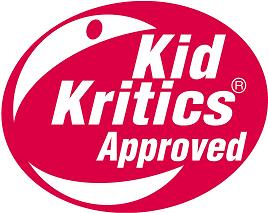 Kid Kritics Approved Seal Ingredient Standards
The objective is to create a list of foods and beverages that are healthier and thus Better Food Choices for families. Initially all selected foods, beverages, supplements and recipes have to meet the Ingredient Standards set by the independent Ingredient Certification Board. Then this list of chosen products and recipes are taste-tested by kids aged 5-14 years. At least seventy percent of the kids have to say a product tastes good for it to be awarded the Kid Kritics Approved seal. Ultimately, this seal may be printed on the packaging and/or show up in marketing and advertising of all approved foods so moms and dads can easily identify and buy these products.
Pure and perfect foods, "best", are not the objective. This is unrealistic. To have families consuming healthier foods, beverages and supplements will make a healthy difference. That is our mission.

Food, Beverages, Supplements and Recipe Standards
No bad fats (i.e. hydrogenated oils, trans-fats)

No artificial additives (i.e. MSG, aspartame, dyes)

No corn syrups

Little to no caffeine

No lab-sourced (synthetic lab-made) ingredients

Acceptable amounts of naturally-sourced sugar

Acceptable amounts of naturally-sourced sodium

Source is natural – grows out of the ground, walks the earth, swims in water, flies in the air (i.e. sugar from sugar cane)

Original nutrients not seriously diminished or eliminated in food processing (i.e. whole grains versus flour stripped of nutrients and bleached)

Kid Kritics Approved Seal Ingredient Standards Board
Keith Wayne Berkowitz, M.D.
Founder, Medical Director for the Center for Balanced Health, New York, N.Y.

Nancy De Jesus, M.D. (Family Physician)
Founder, Medical Director for Med First Wellness Center, Delray Beach, FL

Norina O'Campo, M.D. (Pediatrician)
Practice: Rainbow Pediatrics, Boca Raton, FL.

Blair Barone, Child Psychologist, Pediatric Behavioral Specialist
Practice: Boca Raton, FL.

Janet Zand, OMD, L.Ac. , N.D.
Practice: Austin, TX., Southern California, Clinical Practitioner of Natural Medicine, Author

Valerie Trust Berkowitz, M.S., R.D., C.D.N., C.D.E.
Director at Center for Balanced Health, New York, NY

Jolie Root, N.C., Licensed Nutritionist, Broadcast Host, Medical Journalist
Denver, CO

Susan Knapp, R.N., Certified School Nurse
Elementary and Middle Schools (10+ years), Boca Raton, FL.

Heather Manley, ND, Author of Human Body Detective Series and Curriculum,
Location of Practice, Hawaii

Jaimie Proctor, M.S., R.D., L.D.
Manager of Nutrition and Education, Family Food Experts

Ellen Briggs, Food Consultant
Founder Family Food Experts, Author