Wholesome Sweeteners is the nation's leader in Fair Trade Certified, USDA Organic, Non-GMO Verified, and sustainably produced sugars, syrups, nectars and honeys, all made from nature's best resources. In addition to bringing the best organic, sustainable and unrefined sweeteners to the North American market, Wholesome pioneered the certification process for Fair Trade Certified sugar and honey. Since pioneering Fair Trade in 2005, Wholesome has paid more than $2.5 million to in social premiums to benefit farming and beekeeping cooperatives in the developing world. Premiums are paid over and above the price of the product and they must be used by the co-op to benefit the Community as a whole. Fair Trade means that farmers can buy land, send their kids to school, and build thriving communities.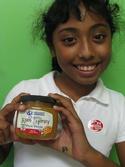 "Sweet and delicious... I'd eat this ten times - a million times a day... eat it anywhere I go, my grandma's house, my house, everywhere... I like it because it makes my taste buds dance... my sugar buds danced... made my taste buds bloom... my taste buds danced in a party because it was so delicious... it tasted so good I would yell, "Eat it!" to the whole world" Cinnamon Agave Syrup was a big hit with Kid Kritics.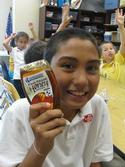 I love honey... the sweetest...would eat this 100,000 times a day...drop this anywhere in the United States and on any planet... honey tastes healthy... I will eat this every single day and never stop... delicious, sweet... the honeyest!" Some kids said although they were not honey fans, they loved this one! Several thought it tasted better than the honey they have at home.
Visit the co-branded pages of our featured manufacturers: