Comments
FOOD TIP: Soft "white" breads tend to get mushy. Stale or day old bread works better - or toast it. Whole grain is best. Substitute gluten-free if needed!

PERFORMANCE RATING: 6/6

Out of this world! Great way to start the day. Get your kids to help you. Teach them how to break the eggs, mix in the milk and seasonings and dip the bread. For families who shy away from eggs, this is an easy and delicious way to bring these invaluable nutrients into their diet.

A 6/6 Performance Rating is a powerful breakfast combination, especially on a school day. This breakfast takes minutes and is far better for them than those frozen versions. Fresh is best. You are going to love it too!
Photos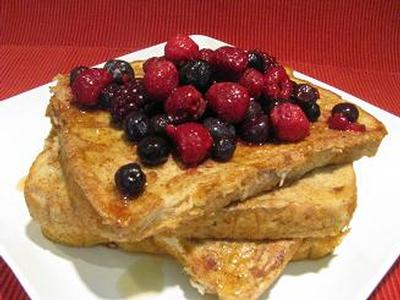 Equipment
Flat griddle, cast iron or nonstick pan; spatula, measuring cups/spoons,small mixing bowl
Prep Time
5 minutes
Cook Time
8-10 minutes
Number of Servings
2-4 depending on ages
Instructions
4 slices whole grain or gluten-free bread (Rudi's Gluten-Free Multigrain bread. Note: stale or day old works great!)

Set aside on plate.

2 large eggs, cage-free

1/2 tsp ground cinnamon

1/4 tsp ground nutmeg

1/2 tsp vanilla extract

1/2 cup milk - organic cow, rice or almond

Gently beat eggs. Add milk, vanilla and spices. Whisk until mixed well.

1 Tbsp. coconut oil or cooking spray

Lightly coat cooking pan with oil. Dip bread into egg mixture until both sides are lightly coated. Place into pan. Cook on large burner on low to medium heat for about five minutes, flipping sides when lightly browned. Place on serving plate.

2 Tbsp Maple Syrup, Pure (Recommended: Shady Maple Farms)

1/2 cup fresh berries

Drizzle syrup on French toast and add berries on top. Serve warm.
Options
Add teaspoon of grated organic orange or lemon zest. Serve with a light dusting of powdered sugar instead of maple syrup. Replace berries with other sliced fruit or thawed frozen berries. Use preserves instead of maple syrup.

SWEET ALTERNATIVE - Spicy Sweet Toast: Add a dash of cayenne and sea salt.
Grocery List
Whole grain or gluten-free bread (Recommended: Rudi's Gluten-Free Multigrain)
Eggs, cage-free
Cinnamon
Nutmeg
Vanilla extract
Milk- organic cow, rice or almond
Maple Syrup, Pure (Recommended: Shady Maple Farms)
Blueberries and/or raspberries
Visit the co-branded pages of our featured manufacturers: