Comments
This is a fun recipe to make with kids. You don't have the mess of waffle batter, yet the waffle iron gives French toast a crisp outside and fun waffle shape. Plus, it's a great way to get kids to eat eggs. The Kid Kritics loved it. Here's what they had to say, "My tummy feels good ... It was so good I want to hug myself ... Yummy yummy ... I loved it so much ... It made my taste buds jump ... My taste buds want some more!"
Photos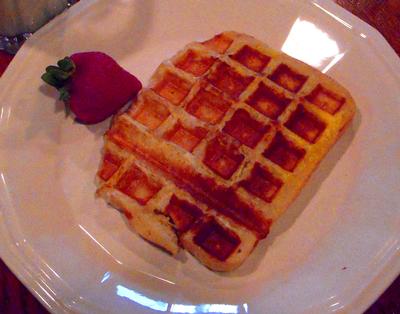 Equipment
Waffle Iron, bowl, whisk
Prep Time
5 minutes
Cook Time
2 to 3 minutes
Number of Servings
1-2 depending on ages
Instructions
1 egg

2 tbsp of lowfat milk (organic, if possible)

1/2 tsp vanilla extract

Crack egg into flat bowl or pie plate, add vanilla extract and milk and whisk well.

2 slices of Rudi's Country Morning White Bread

Dip one slice of bread into mixture and immediately turn over, dip the other side and place it into heated waffle iron. Cook according to your waffle iron directions.

Strawberries or other fresh or frozen fruit

Cinnamon

Serve warm topped with sliced fresh fruits such as strawberries, peaches, bananas, or apples. Or even use thawed frozen berries. Sprinkle with cinnamon.
Options
You can use two slices to make a waffle "sandwich", and inside place any sliced fruit of your choice, such as strawberries, peaches or apples. You can also use your favorite nut or seed butter inside the waffle sandwich!
Grocery List
Egg
Lowfat milk (organic, if possible)
Vanilla Extract
Rudi's Country Morning White Bread
Strawberries or other fresh or frozen fruit
Cinnamon
Nut or seed butter (optional)
Visit the co-branded pages of our featured manufacturers: