Comments
PERFORMANCE RATING: 4/4

This is a treat made with real food containing important nutrients such as protein and complex carbohydrates. It is so easy to throw together and will impress your friends and family with how it looks and tastes. In fact, when you use plain yogurt, this becomes a healthier breakfast!

For a snack or dessert, a 4/4 rating is good. If you add the nut or seed option, you not only increase your number of food groups, you also add protein to help balance the natural sugars of this recipe.Your kids could… and should… make this themselves. Save a little for their next day's lunch box. Enjoy this fruity recipe!
Photos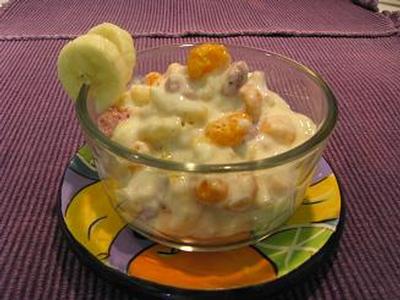 Equipment
Medium and small bowls, measuring cups/spoons and a whisk
Prep Time
7 minutes
Number of Servings
6, depending on ages
Instructions
4 tsp. lemon juice

If using whole lemons, squeeze juice into medium bowl.

2 bananas

Cut 8 slices and add to lemon juice in bowl, coat, remove from bowl and set aside for garnish. Mash rest of bananas with remaining lemon juice in medium bowl.

1 cup low-fat plain or vanilla yogurt (organic if possible)

1 1/2 cups Fruit Medley Cereal, Barbara's Bakery Puffin Puffs

Put yogurt and cereal into bowl with mashed bananas. Stir together. Place each portion in small bowl. Garnish with lemon coated banana slices. Serve chilled.
Options
Add slivered almonds or sunflower seeds.
Grocery List
Lemons or lemon juice
2 bananas
Low fat plain or vanilla yogurt (organic if possible)
Fruit Medley Cereal, Barbara's Bakery Puffin Puffs
Visit the co-branded pages of our featured manufacturers: