Comments
When ever you thinly slice and shred vegetables, they combine well and kids like the texture.Placing one slice of cheese on the bottom and one on top of the chicken-free patty blankets everything inside melted cheese. Now you are really making this a kid friendly healthy wrap. For larger tortillas, increase amount of ingredients to fill this wrap.
Photos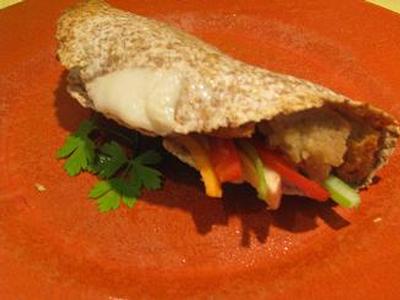 Preheat
Toaster oven
Equipment
Toaster oven, cutting board & knife
Prep Time
10 minutes
Cook Time
20 minutes
Number of Servings
1
Instructions
1 tortilla, whole grain

Place on top of toaster oven for gentle warming.

2 tsp. Earth Balance spread (or olive oil)

Place spread on tortilla or drizzle olive oil over it.

2 slices SoySation Cheddar Slices, Lisanatti Foods

Chicken- Free Patty, Health is Wealth

Place one slice soy cheese on tortilla. Reserve second slice of cheese. Slice patty and place on front end of soy cheese.

1 Tbs. shredded carrots

1 Tbs. very thinly slivered celery sticks

1 Tbs. thin slivered red peppers

2 thin slices of apple

Place even amount of each on top of patty. Put second slice of soy cheese on top of veggies and apple. Roll up and place in toaster oven. Heat through until cheese is melted. Serve warm.
Options
For a change, try replacing SoySation Cheeze with Almond or Rice Cheeze or mozzarella. Replace Earth Balance spread with good quality butter or olive oil.
Grocery List
Chicken-Free Patty, Health is Wealth
Whole grain tortilla
Earth Balance spread, olive oil, or organic butter
SoySation Cheddar slices, Lisanatti Foods
Carrots
Celery
One red pepper
One apple
Visit the co-branded pages of our featured manufacturers: