Comments
"This pasta dish was a bit hit with the Kid Kritics. Loved the mild nutty flavor not found in regular pasta. They were especially interested to learn about the protein value of spelt. A little will keep tummies feeling full for awhile and it won't make you feel tired. Your family with love spelt pasta!"
Photos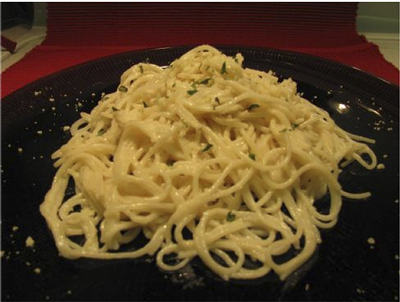 Equipment
Saucepan, colander
Prep Time
About 5 minutes
Cook Time
About 7 minutes
Number of Servings
2-4, depending on ages
Instructions
1 (8 oz.) box Spelt Spaghetti, Vita Spelt

Bring water to a boil in saucepan. Add pasta. Reduce heat and gently cook until desired texture is reached. Drain water in colander and return to pan.

1/3 cup grated Parmesan or Romano cheese

1 cup rice or almond milk or reduced fat cow's milk

2 Tbs. organic butter or Earth Balance spread

1/2 tsp. sea salt

Gently stir into pasta. Place in serving bowls or on plates.

Parsley or oregano flakes

Top pasta with desired amount of flakes. Serve warm.
Options
Serve with poultry, fish, or beef and a salad. Add peas, broccoli florets, or other veggies. Spelt pasta comes in all shapes and there is also a whole grain variety.
Grocery List
1 (8 oz.) box spelt spaghetti, Vita Spelt
Grated Parmesan or Romano cheese
Rice or almond milk or reduced fat cow's milk
Organic butter or Earth Balance Spread
Sea salt
Parsley or oregano flakes
Visit the co-branded pages of our featured manufacturers: