Comments
Here are some comments from the Kid Kritics taste test, "Spicy – I loved it ... Tastes so good I would eat it every day and night ...Tastes so good – best thing I ever had ... Really good and I'll eat it every day ... Scrumptous!"
Photos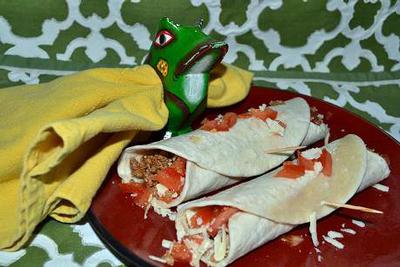 Equipment
10 inch skillet
Prep Time
10 minutes
Cook Time
10 minutes
Number of Servings
4 or more depending on ages
Instructions
Cooking spray or olive oil

Spray skillet with cooking spray or olive oil.

1 pound ground turkey (Suggested: Plainville Farms or Shelton's)

Brown ground turkey over medium heat until cooked and no longer pink.

1 Tbsp chili powder

1/4 tsp garlic powder

1/2 tsp onion powder

1/2 teaspoon paprika

1 tsp cumin

1/2 tsp sea salt

1/4 tsp black pepper*

Dash red pepper flakes*

1/2 cup water

Add spices (or use taco seasoning mix **) and water to the ground turkey. Reduce heat and cook for 4-6 minutes or until sauce is heated and thickened properly. Feel free to adjust spices to your family's taste.

Tortillas (whole grain or gluten-free)

Cut tortillas in half and add turkey.

Cabot Sharp Light Cheddar Cheese, shredded

1 tomato, diced

Top turkey with cheese and tomatoes. Roll up tortillas and serve. Liz says, "Add kid cupcake toppers to hold taco roll ups together and to make them more appealing to little ones."
Options
The kid cupcake toppers are a great idea - especially those with pictures of favorite characters! To save time, try salsa in place of diced tomatoes. Add some shredded lettuce or cilantro before rolling up for green color!

* Omit or use more red pepper flakes depending on if your family likes spicy foods. Replace ground black pepper with a dash of cayenne for better digestibility.

** This recipe uses homemade taco seasoning. If you would prefer a seasoning mix, try Simply Organic Southwest Taco Seasoning - it's Kid Kritics Approved.
Grocery List
Cooking spray or olive oil
1 pound ground turkey (Suggested: Shelton's or Plainville Farms)
Organic Taco Seasoning (by Simply Organic) or spices (chili powder, garlic powder, onion powder, paprika, cumin, sea salt, black pepper*, red pepper flakes*)
Water
Tortillas (whole grain or gluten-free)
Cabot Sharp Light Cheddar Cheese
Tomato or salsa
Shredded lettuce or cilantro (optional)
Visit the co-branded pages of our featured manufacturers: